Countdown to Reservations End Date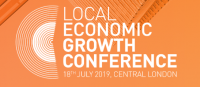 Event Details
Starts on:
18/07/2019 08:45 AM
Ends on:
18/07/2019 04:40 PM
Location:
Central London, UK
Description
The Local Economic Growth Conference will provide leading policy and funding updates directed towards driving economic growth within local areas. Attendees will also be given the opportunity to strategise how to drive economic growth across their local area by working in partnership across councils, universities, LEPs and businesses. Additionally, participants will hear from leading case studies implementing proven, successful local growth strategies that have reinvigorated the economy in their region.
Delegates will:
• gain insight from leading policymakers on the next steps for driving forward localised economic growth strategies following Brexit
• assess the role of local authorities, universities and LEPs in strategising local growth strategies
• discuss the latest accessible funding to drive local economic growth, such as the UK Shared Prosperity Fund
• analyse what could work for your region by building on regional strengths and assets
• learn how to overcome a variety of local restraints on growth
• evaluate how to generate investment and employment opportunities in your local area
• network and collaborate with institutions from a variety of sectors all looking to grow their regions together
• explore how technology and digitalisation can be a route towards overcoming barriers to growth.
Don't forget to quote 'IGEdCentral20' when booking to claim your exclusive 20% discount!
There are three ways to register: call: 0203 770 6580; email: This email address is being protected from spambots. You need JavaScript enabled to view it.; or click the link below to visit the event website.