Countdown to Reservations End Date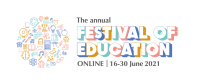 Event Details
Starts on:
16/06/2021 09:00 AM
Ends on:
30/06/2021 05:15 PM
Description
A virtual festival taking place across two inspiring weeks from 16th to 30th June, this event will feature a daily keynote from leading educationalists and thought leaders during the daily broadcasts. Friday Fest days will feature invaluable CPD opportunities for all education professionals and access will be free for educators across the globe.
Across the two weeks, delegates will hear a series of keynote sessions from leading educationalists and thought leaders from across the globe. Festival keynotes will be 60-90 minutes long and typically include a live Q&A opportunity with the audience online.
Friday Fest will take place between 09:00-16:00 on the 18th and 25th June, and will feature over 50 high-quality CPD sessions, seminars and debates for educationalists around the globe. Hosted on the 'Hopin' virtual platform, Friday Fests will include an engaging exhibition area and an opportunity to "speed-date" network with other attendees via video calls.