Countdown to Reservations End Date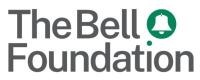 Event Details
Starts on:
28/09/2023 04:00 PM
Ends on:
28/09/2023 05:00 PM
Description
The Bell Foundation is excited to launch brand new guidance and strategies for the classroom which will replace the existing classroom strategies for primary and secondary.
The webinar will be suitable for both English as an Additional Language (EAL) specialists and classroom/subject teachers, providing an overview of the new guidance and strategies and exploring how they can be most effectively used to support curriculum-related language development in mainstream classrooms.
The guidance will be launched in the webinar, or you can sign up to the newsletter to receive it in your inbox.
Areas of focus will include:
• An overview of the guidance and strategies
• Details of how to use them
• Examples of strategies in action at different key stages and with different PIE band learners
• Opportunities for questions.