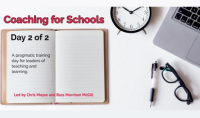 Event Details
Starts on:
06/02/2019 09:30 AM
Ends on:
06/02/2019 03:30 PM
Location:
Central Manchester, UK.
Description
This 2nd day has been developed from delegate feedback of day 1 and attendance is recommended on the basis that you have attended our day 1 course.
This pragmatic training day is for leaders of teaching and learning; for those interested in taking our coaching strategies further.
We will explore coaching in various context e.g. for appraisal, for observations, for school leaders, for NQTs etc. How a school could consider the logistics of moving a school system over to this approach completely, therefore leaving behind performance management as it stands. Exploring what you have already done in school since day 1; quality vs. quantity of coaching and tracking the effectiveness of coaching and its impact.
There will be time set aside for discussing ideas in groups about the work you have done and how it is evolving; bringing your ideas back to the group for further dissemination.
With over 50 years in education between them, this thought-provoking and practical training day will be led by two experienced school leaders: Chris Moyse and Ross Morrison McGill.
Chris Moyse is an education consultant and SLE with over 30 years experience. He has been a senior leader for the last 7 years in a successful all-through academy working across 5 key stages. He also runs his own consultancy business, TLC Education Services Ltd and for several years working alongside the late, great Paul Ginnis, author of 'The Teachers' Toolkit'. Chris has now worked in over 275 schools across England and Wales.
Ross Morrison McGilli is a teacher and school leader with 23 years experience. He has written 3 books on teaching and is passionate about teacher well-being and teaching and learning. In 2010, he founded @TeacherToolkit, rapidly becoming one of the most popular websites for sharing resources and ideas around the world.
FAQs:
What included in the price?
A light lunch is included in the price and ticket administration fees via Eventbrite / 20% VAT included.
What are my transport/parking options for getting to and from the event?
We will confirm the venue one month before, so initially, we would recommend travel by public transport as we cannot guarantee any parking. Teacher Toolkit cannot take responsibility for loss of accommodation/travel costs incurred if the school venue becomes unavailable due to unforeseen circumstances. Venue confirmation will be shared 14 days before the date.
What can I bring to the event?
We would recommend you bring a device that can connect you to wifi / social media, although both are not compulsory to help individuals introduce aspects of the day back into school. Those attending should bring their own devices and have access to various resources shared on the day. For more details about the programme, please contact This email address is being protected from spambots. You need JavaScript enabled to view it..
How can I contact the organiser with any questions?
Please contact This email address is being protected from spambots. You need JavaScript enabled to view it.if you have any questions.
What's the refund policy?
We will refund the full ticket price if you notify us 30 days before the date of the event. We cannot issue any other refunds less than 30 days before the event as venue/catering costs are booked at least one month in advance.
Secure your place