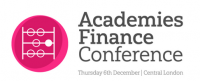 Event Details
Starts on:
06/12/2018 08:45 AM
Ends on:
06/12/2018 04:20 PM
Description
The Academies Finance Conference 2018 will provide a leading platform to assess how academies can deliver outstanding financial management and support maximum efficiency and value for money across a Trust. Attendees will learn from leading practitioners and policy experts in enhancing budgeting and financial planning, developing an effective procurement strategy and maximising income generation opportunities to improve financial performance in all academies.
Click here to view the full agenda.
There are three ways to register: call: 0203 770 6580; email: This email address is being protected from spambots. You need JavaScript enabled to view it.; or click the link below to visit the event website.
Don't forget to quote 'IGEdCentral20' to claim your exclusive 20% discount.