Countdown to Reservations End Date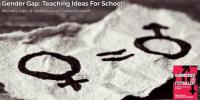 Event Details
Starts on:
14/05/2019 09:30 AM
Ends on:
14/05/2019 03:30 PM
Location:
Archbishop Tenison's School, 55 Kennington Oval, London SE11 5SR
Description
This one day course, designed for every teacher, is full of practical ideas which deliberately target gender stereotypes and misconceptions on gender in the classroom. The strategies delivered and the issues discussed have been tried and tested by practitioners who are passionate about gender equality in their classrooms. Delegates will be offered a range of strategies and insights into 'what teachers can do in the classroom' and 'why and how' they work.
The cost of the training includes a free copy of the new 'Hairdresser or Footballer' book.
The agenda includes:
• Introduction to gender history and background
• Introduction to the book and how to access/use the ideas; Mythbusting
• Academic differences and how to effectively combat them; strategies for teachers
• Aspirational differences and how to combat them; strategies for schools.
There will be time set aside for discussing ideas in groups about the work attendees have done and how it will evolve; bringing ideas back to the group for further dissemination.