Countdown to Reservations End Date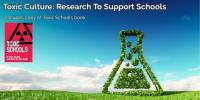 Event Details
Starts on:
06/07/2019 10:00 AM
Ends on:
06/07/2019 03:30 PM
Location:
Archbishop Tenison's School, 55 Kennington Oval, London SE11 5SR
Description
This one day course is designed for every teacher and leader and is full of practical ideas to support staff in identifying toxic school experiences and to learn techniques to support themselves and others. With a growing concern for teacher wellbeing due to increased pressures associated with the role, this course will focus on developing reflective practices through ethnographic approaches including self-writing. Based upon Driscoll's Cycle (What? So what? What now?) participants will form an understanding of what a toxic school experience is, how they affect people on a range of different levels, and how to create a different path.
The cost of the course includes a free copy of the new 'Toxic Schools' book.
The agenda will include:
• Introduction to toxic culture; 8 themes
• Ethnography and authenticity
• An introduction to Driscoll's cycle and self-writing
• Critical reflection and questioning.
There will be time set aside for discussing ideas in groups about the work done and how it will evolve; bringing ideas back to the group for further dissemination.