Countdown to Reservations End Date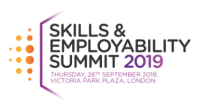 Event Details
Starts on:
26/09/2019 08:00 AM
Ends on:
26/09/2019 05:00 PM
Location:
Park Plaza, Victoria, London
Description
The nature of business and work is constantly evolving, and business success in this new age is tethered to the success of nurturing the next generation of workers.
To meet this challenge head on and within the wider context of the UK employment market, Skills and Employability 2019 has curated one crucial day of engagement, with a special community of solution orientated experts, who are successfully navigating the changing world of work.
This one day conference is built around the critical issues of the prospects of apprenticeship reform, the implementation of T-levels, the burgeoning digital skills gap, social mobility and routes for in-work progression, and life-long learning.
Delegates will learn about the UK government's priorities for the skills and employability sector as well as diffusing the uncertainty around funding, post 16 options and strengthening the links between enterprise and UK academic institutions.
Topics covered will include:
• Qualifications
• Lifelong learning
• Diversity in employment
• Digital skills
• Cross sector collaboration
• Career guidance.