Countdown to Reservations End Date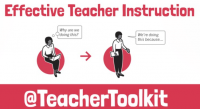 Event Details
Starts on:
13/01/2020 12:30 PM
Ends on:
13/01/2020 03:30 PM
Description
This three hour training session explores 65 years of teaching and learning research and experience, disseminating Professor Barak Rosenshine's 17 Principles of Effective Instruction (2010) and his 40 years of research in education – plus Ross McGill's 25 years in classrooms, summarised in Mark Plan Teach (2017).
The session will translate what academic research suggests about what effective teachers do, and what and how this looks like in the classroom - bridging the gap between theory and practice.
The training will summarise the 17 principles into 9 practical ideas for the classroom, exploring what to do as well as what not to do. Some of the ideas will include ideas from Mark Plan Teach as well as some specific approaches recommended by psychologists and cognitive scientists.
This training is perfect for experienced teachers and school leaders who wish to instil a sense of rigour in classrooms in time for the revision and examination period, as well as an opportunity to access 65 years of teaching and learning concepts.