Countdown to Reservations End Date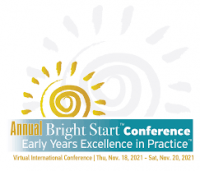 Event Details
Starts on:
18/11/2021 09:00 AM
Ends on:
20/11/2021 05:00 PM
Description
This two day online conference will take place from 18th to 20th November and will mark an important milestone towards equipping participants with practical strategies and tools to enhance their knowledge and skills in order that all children have a Bright Start in Life.
Aimed at engaging participants in quality improvement in early years settings, the conference will facilitate deep reflective practice and enhance individual professional learning and development, providing:
• A unique opportunity to learn from global leading experts across Early Childhood Care & Education
• Get the tools and strategies to make a significant, positive impact back at work
• Be part of the post-conference evaluation which will provide tangible evidence of impact
• Receive the 2021 Bright Start Certificate of Attendance for CPD credits.
Participants will be able to:
• Discuss the latest developments & innovations in early childhood
• Explore the critical factors impacting children's development
• Highlight many of the considerations & practices in our work with young children and their families
• Learn about cutting-edge developments in the field.
The conference will convene entirely online so will provide exciting opportunities to connect worldwide.
Registered attendees will be able to participate through the 2021 Bright Start Attendee Hub and may expect:
• A network of global leaders in Early Childhood Care & Education from all over the world
• 60+ sessions including practical workshops, live demonstrations & round table discussions
• 110+ hours of live streamed content
• Full access to the Attendee Hub, to view recordings until 3 months after the conference
• Full access to the resources library until 3 months after the conference.