Countdown to Reservations End Date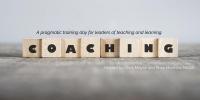 Event Details
Starts on:
19/06/2019 09:30 AM
Ends on:
19/06/2019 04:00 PM
Location:
Archbishop Tenison's School, 55 Kennington Oval, London SE11 5SR
Description
This pragmatic one training day is for leaders of teaching and learning; for those interested in moving towards a coaching culture for observations. On the day, delegates will explore the most up-to-date ideas from research and practice to re-boot delegates' thinking so they may return to school equipped with strategies to use immediately.
Led by Ross Morrison McGill, a teacher and school leader with 25 years of experience, this course will provide attendees with the tools to enable them to deliver the training with colleagues and kick-start coaching in their school.