Countdown to Reservations End Date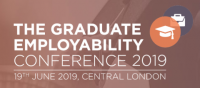 Event Details
Starts on:
19/06/2019 08:45 AM
Ends on:
19/06/2019 04:50 PM
Location:
Prospero House - etc Venues, London SE1 1GA
Description
This one day onference provides a vital platform to determine how all universities can develop innovative strategies and an institution wide approach to enhance student employability in an increasingly competitive jobs market.
Participants will have the opportunity to hear from policy experts and gain best practice insights on successfully developing student services and embedding employability into course design.
Leading practitioners will share strategies for fostering effective partnerships with employers and advancing student careers services to support student wellbeing and the best employability outcomes for new graduates.
Delegates will:
• explore how all higher education institutions can improve and update their employability strategies to reflect the latest trends in an increasingly competitive jobs market
• gain practical solutions for developing student services and careers departments to successfully close the employability gap, improve social mobility and widen participation for disadvantaged students
• assess how employability can be embedded into the design and development of academic courses and how universities can develop an institution wide approach
• learn from examples of best practice and innovative methods demonstrating how to advance students in the employability market to ensure regional retention of graduates
• understand how the higher education sector can successfully collaborate with employers from diverse sectors to develop employment opportunities for future graduates
• evaluate the progress of the new graduate outcomes survey and how to develop an employability strategy to support its continuing implementation
• ensure student wellbeing through mentoring and a collaborative approach, helping students in their transition to employment
• network with leading higher education experts, employers and practitioners to share best practice and guidance in securing high quality graduate employment outcomes for students.
Don't forget to quote 'IGEdCentral20' when booking to claim your exclusive 20% discount!
There are three ways to register: call: 0203 770 6580; email: This email address is being protected from spambots. You need JavaScript enabled to view it.; or click the link below to visit the event website.