Countdown to Reservations End Date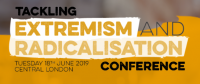 Event Details
Starts on:
18/06/2019 08:45 AM
Ends on:
18/06/2019 04:00 PM
Location:
Central London, UK
Description
The Tackling Extremism and Radicalisation Conference 2019 will offer the latest practical insights to assess how all public sector institutions can deliver effective interventions which successfully prevent and challenge radicalisation and extremism.
Those attending will gain best practice insights and leading policy updates in supporting multi-agency working to tackle radical activity, enhancing safeguarding provision for individuals at risk of extremism and developing effective teaching provision to improve the resilience of young people against radicalisation.
Delegates will:
• assess public sector solutions and responses to challenging extremism and radicalisation
• evaluate the next steps in supporting community cohesion and social integration
• explore how all agencies can tackle the challenge of online grooming and radical content
• gain leading insights and updates on how multi-agency approaches can be enhanced to tackle extreme ideologies
• discuss how all institutions can ensure an effective strategy to prevent radicalisation and deliver high quality safeguarding for vulnerable individuals
• analyse the role of schools and further education colleges in enhancing pupil's resilience to extremism and promoting an understanding of British values and citizenship
• understand the next steps in delivering robust counter- extremism policing which effectively identifies and disrupts radical activity
• network with leading professionals from across the public sector to share the latest best practice in tackling extremism.
Don't forget to quote 'IGEdCentral20' when booking to claim your exclusive 20% discount!
There are three ways to register: call: 0203 770 6580; email: This email address is being protected from spambots. You need JavaScript enabled to view it.; or click the link below to visit the event website.