Countdown to Reservations End Date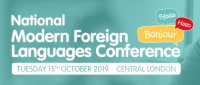 Event Details
Starts on:
15/10/2019 08:45 AM
Ends on:
15/10/2019 04:40 PM
Location:
Central London, UK
Description
This one day conference will assess the latest best practice methods and strategies to enhance MFL teaching provision and improve attainment for all MFL pupils.
Attendees will gain best practice insights and participate in workshops delivered by MFL experts and will learn new and innovative ideas for how to deliver outstanding MFL provision and how to develop strategies to increase uptake in MFL.
Delegates will:
• explore the next steps towards delivering a nation of confident linguists through the creation of a Centre for Excellence for Languages Pedagogy
• assess the National Recovery Programme for Languages and its potential to encourage change for the future of language teaching
• share examples of best practice to learn new ideas for lesson plans and classroom exercises
• understand how to improve pupil attainment through effective teaching pedagogy
• gain insights into creative teaching methods to improve speaking and listening skills of students
• evaluate the outcomes of the 2019 MFL exams and how to support future GSCE and A level students
• discuss practical strategies for supporting grammar and vocabulary development in pupils
• network with leading MFL professionals from across the country to share best practice and guidance.
Don't forget to quote 'IGEdCentral20' when booking to claim your exclusive 20% discount!
There are three ways to register: call: 0203 770 6580; email: This email address is being protected from spambots. You need JavaScript enabled to view it.; or click the link below to visit the event website.