Countdown to Reservations End Date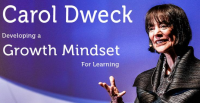 Event Details
Starts on:
02/09/2019 09:30 AM
Ends on:
02/09/2019 04:30 PM
Location:
Emmanuel Centre, 9-23 Marsham Street, London SW1P 3DW
Description
This one day conference will feature Professor Carol Dweck (Stanford University), the founder of Growth Mindset theory, at her only public event in the UK in 2019/20.
Carol will talk about:
• Applying her highly impactful Growth Mindset theory into an education setting
• The relationship between mindset, self-efficacy and performance
• Steps that teachers, leaders and parents can take to help build young people's resilience, curiosity and motivation for learning.
In addition, delegates will learn strategies to build a Growth Mindset culture benefitting students and staff across the whole school.
Also featured will be testimonials & advice from mindset schools which have implemented mindset:
• How they began their journey
• Results achieved
• Advice for implementation.
Joining Carol Dweck as a keynote speaker will be James Nottingham, creator of The Learning Pit and founding Director of Challenging Learning. He has worked with Carol for many years hosting events and conferences across Europe.