Countdown to Reservations End Date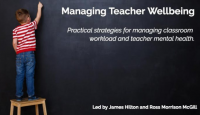 Event Details
Starts on:
02/02/2019 09:30 AM
Ends on:
02/02/2019 03:30 PM
Location:
Central London, UK
Description
This one day course is designed for every teacher and school leader who wants a better understanding of research informed ideas which deliberately place wellbeing at the heart of school life.

Led by two experienced school leaders, James Hilton and Ross Morrison McGill, this training will guide attendees towards gaining a deeper understanding of the differences between pressure and stress, analysing the physiology of stress, as well as talking about six tell-tale signs to look out for - and some of the most common responses.

Delegates will be provided with a copy of the presenters latest books - filled with wellbeing ideas - and also offer practical strategies on the day for managing classroom workload and what schools can do to promote resilience.