3 minutes reading time
(550 words)
A beginner's guide to David Didau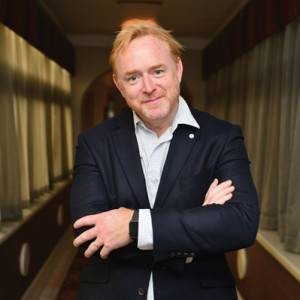 Since its launch The Learning Spy has had over a million visitors and won a number of awards. Didau writes about ordinary teachers' constraints and irritations, exploring his own successes and failures from his years of teaching, as well as the latest education research and cognitive psychology. He has also written four books exploring different aspects of teaching and learning through cognitive science.
Didau taught English for 15 years in a variety of schools. He started blogging about his experiences of teaching in 2011. That blog, The Learning Spy, is now widely recognised as one of the most influential education blogs in the UK. Didau currently works as a freelance writer, speaker and trainer, and is employed by Swindon Academy as an internal consultant on curriculum design, teaching and literacy.
The main focus of Didau's books is how teachers can improve the way they understand pupils' learning. In The Secret of Literacy he urged teachers to 'make the implicit explicit', reflecting that teachers are often highly literate but do not know how they are able to read and write, as the skills are so entrenched in their minds. This lack of understanding makes it difficult to teach pupils the mechanisms of literacy. He suggests that by breaking down and codifying their own skills, teachers can better teach pupils to read and write.
In a similar vein, What If Everything You Knew About Education Was Wrong? explores the many unexamined assumptions that underlie education. Didau writes about how learning is invisible, and that while current assessment methods can show teachers what pupils can do, they do not measure long-term retention and the ability to transfer skills and concepts between different contexts, which would be indicative of true learning.
What does he research?

While Didau himself is not a researcher, he draws heavily on psychological research in his writing and training. His latest book,
What Every Teacher Needs to Know About Psychology
, looks particularly at how understanding cognitive psychology can help teachers better understand how different pupils learn. In it Didau and his co-author – psychology-researcher turned teacher Nick Rose – present the psychological evidence and theories they believe are most useful to teachers.
​
"My point is that it should never be good enough to ask: 'Are students learning?' Or: 'Are students making progress?'Instead we should always ask: 'What are they learning?' And: 'What are they making progress in?'"
Didau's arguments are respected across the education sector. In 2014, he consulted on the Ofsted Inspection Handbook. His input led to lesson observation grades being removed, with inspectors now asked to look at classroom practice and ask questions, rather than look for preferred methodologies. He has won many plaudits from leading education researchers and figureheads: Dylan Wiliam, Emeritus Professor at the Institute of Education, says that Didau's What if… is his new favourite book on education.
Why you should consider reading more:
Didau was recently a member of the government commissioned marking workload review group and looks set to continue to influence education training and standards for many years to come.
Related Posts
Comments
No comments made yet. Be the first to submit a comment
By accepting you will be accessing a service provided by a third-party external to https://edcentral.uk/