Brain food: why breakfast really is the most important meal of the day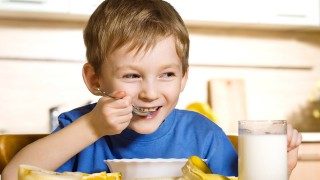 We've all heard that it's the most important meal of the day, but research has made it official: breakfast is linked to better performance in the classroom. According to a study from Cardiff University in 2015, the odds of an 11-year-old student achieving above average in a test were twice as high for those who ate breakfast compared with those who did not.
It doesn't end there. Research has also linked eating breakfast to a variety of positive consequences beyond academic performance. Here are a few of the benefits:
Better memory and attention span

One study split students into three groups: one had cereal for breakfast, one had no breakfast and one had an energy drink to start the day. Students were then monitored throughout the morning over the course of four days, with tests to measure their attention and working memory. The results? Students from the no breakfast and energy drink groups performed significantly worse than those who had a proper breakfast.
Better eating habits

Young people can be tempted to skip breakfast for a variety of reasons, from losing weight to just getting an extra 10 minutes in bed. Not only is this an unhealthy approach to dieting, it also isn't effective.
Research shows that missing breakfast primes the brain to search out high-calorie food and eat more over the course of the day. A study in Korea found that people who rarely ate in the morning had lower-quality diets compared with those who had a regular breakfast.
Better mental health

The authors of this study from the University of Bristol found the benefits of breakfast went beyond the physical. They concluded: "Individuals who consumed a cereal breakfast each day were less depressed, less emotionally distressed and had lower levels of perceived stress than those who did not eat breakfast each day."
Meanwhile, this review from the Mental Health Foundation says that skipping breakfast isn't just associated with poorer mental health – it causes it: "Missing meals, especially breakfast, leads to low blood sugar and this causes low mood, irritability and fatigue."
Improved physical health

In 2003, research from Harvard Medical School showed that skipping the first meal of the day increased the likelihood of becoming obese, developing diabetes and suffering from heart disease. Missing breakfast is also associated with an increase in cholesterol levels, which is also detrimental to physical health.
Another study on school students showed that both boys and girls who "sometimes" ate breakfast were found to do less physical activity than those who "always" did.
All this just goes to show that breakfast is good for the the mind, body and soul. So next time the school's breakfast club funding comes under fire – you have the data to prove its importance – and the reasons why you shouldn't ever skip it yourself!
Comments
1 Thanks for sharing the information about food: why breakfast really is the most important meal of the day
Thanks for sharing the information about food: why breakfast really is the most important meal of the day
By accepting you will be accessing a service provided by a third-party external to https://edcentral.uk/