Sex and relationship education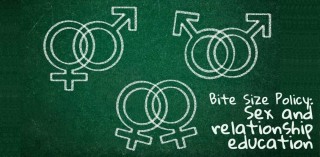 To kick off our new bite-size series covering education policy, we start with Sex and Relationship Education (SRE). This is a timely topic in light of a new bid to force the government to make personal, social and health education (PSHE) compulsory in schools.
Sex and relationship education (SRE) is aimed at helping and supporting young people through their physical, emotional and moral development. The thinking behind SRE is that it should support and enable young people to ' develop the skills and understanding they need to live confident, healthy and independent lives.'
SRE also plays an important role alongside other aspects of the curriculum and school life in helping pupils deal with difficult moral and social questions. A successful SRE programme, firmly embedded in Personal, Social and Health Education (PSHE), will help young people learn to respect themselves and others and move with confidence from childhood, through adolescence into adulthood. The PSHE Association describes personal, social, health and economic education (PSHE) as 'a planned programme of learning through which children and young people acquire the knowledge, understanding and skills they need to manage their lives'.
But there are concerns over the quality and scope of SRE in UK schools.
A wide-ranging international study by a team from Bristol University (published in September 2016) looked at how young people in 10 countries - including the UK - viewed their school-based SRE, and found schools were reluctant to acknowledge that sex is a potent and potentially embarrassing topic and were attempting to teach it in the same way as other subjects.
The study, led by Dr Pandora Pound, from the School of Social and Community Medicine, also found students frequently felt vulnerable in SRE lessons, with young women often risking harassment if they participated, and young men anxious to conceal sexual ignorance. She said:
"It is clear from our findings that SRE provision in schools frequently fails to meet the needs of young people. Schools seem to have difficulty accepting some young people are sexually active, which lets to SRE that is out of touch with many young people's lives."
Young people also reported that SRE can be negative, gendered, and heterosexist, and that having it delivered by their own teachers frequently created problems - including embarrassment, lack of anonymity and blurred boundaries.
Dr Pound claims that government guidance in the UK is outdated, and that nearly a third of UK schools offer poor quality SRE.
What must be taught and are there any exceptions?

Local authority maintained schools in England are obliged to teach SRE from age 11 upwards, and must have regard to the Government's SRE guidance. Academies and free schools – now the majority in secondary education in England – do not have to follow the National Curriculum and so are not under this obligation. However, if they do decide to teach SRE, they also must have regard to the guidance.

While there is currently no centrally prescribed curriculum for PSHE, Ofsted explains that PSHE programmes typically cover 'health and safety education, including substance misuse, sex and relationships education, careers education, economic education and financial capability'.
Effective SRE is regarded by the Government as essential if young people are to make responsible, well informed decisions about their lives. Rather than being delivered in isolation, government guidelines say it should be "firmly rooted" within the framework for PSHE and the National Curriculum.
Teaching about same-sex marriage

During and following the passage of the Marriage (Same Sex Couples) Act 2013, there was considerable debate about the implications of the legislation for teachers whose religious beliefs led them to oppose the measure. The then Equalities Minister stated that teachers would be able to describe their belief that marriage is between a man and a woman, while acknowledging that same-sex marriage will be available within the law. Reforms for schools to 'actively promote' British values, which the Government stated meant that schools should encourage pupils to respect other people, even if they do not agree with them, prompted fresh concerns from religious organisations that teachers could be required to promote same-sex marriage to which they were opposed.

Can parents withdraw their children?
Parents are free to withdraw their children from SRE if they want to. The only exceptions to this are the biological aspects of human growth and reproduction that are essential elements of National Curriculum Science.

What's the political background?

The position of SRE on the curriculum was considered within the then Government's 2011 internal review of PHSE. It was decided that PSHE would remain a non-statutory subject and the position of SRE remained unchanged.

During the 2010 Parliament, concerns were frequently raised about the content, status and quality of SRE. In 2013, an Ofsted report found that SRE "required improvement in over a third of schools", with primary pupils ill-prepared for the physical and emotional changes of puberty, and secondary education placing too much emphasis on "the mechanics" of reproduction.
Private Member's Bills have been tabled during both the 2010 and 2015 Parliaments to introduce compulsory SRE – sometimes within proposed statutory PSHE – and Labour and *Green Party MPs tabled amendments with this aim during the passage of the Children and Families Act 2014.
The previous Labour Government had proposed legislation prior to the 2010 General Election to ensure that all children receive at least one year of sex and relationship education, but the relevant measures did not pass. The former shadow Education Secretary, Lucy Powell, stated that a future Labour Government would introduce statutory PSHE.
There were also calls from across parties for the Government's SRE guidance – which has been in place since 2000 – to be updated to better equip teachers in a world transformed by the Internet. The then Government argued that supplementary advice for schools published by the PSHE Association, the Sex Education Forum and Brook, Sex and relationships education (SRE) for the 21st century, performed this function.
In February 2015, the House of Commons Education Select Committee published a report, Life lessons: PSHE and SRE in schools. It recommended that age-appropriate SRE should become a statutory subject in primary and secondary schools, albeit with parents retaining their right to withdraw children. The Government response to the report, which was published in July 2015, did not take forward this recommendation, although it stated that it would be giving further consideration to the Committee's arguments in 2015.
However, in February 2016, the then Education Secretary, Nicky Morgan, confirmed that the Government would not be making PSHE statutory.
Since that time, claims by a senior police commissioner that sex education is the only way to tackle child abuse has helped fuel a new bid to force the Government to make PSHE compulsory in schools.
---
*Caroline Lucas, the Green Party MP for Brighton Pavilion, has re-tabled her PSHE bill, which demands formal lessons on PSHE at all state-funded schools – including lessons about ending violence against women and girls, and training and guidance for teachers on PSHE and sex education. The bill failed to get through the House of Commons in either of the last two parliamentary sessions because of procedural delays, despite cross-party support. But Lucas is hoping her third bid for a law change will win the backing of new prime minister, Theresa May, and the new education secretary Justine Greening.
Comments
No comments made yet. Be the first to submit a comment
By accepting you will be accessing a service provided by a third-party external to https://edcentral.uk/