2 minutes reading time
(476 words)
A beginner's guide to Doctor Gary Jones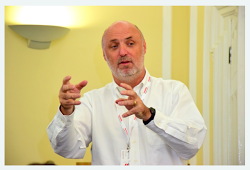 Jones is an advocate of evidence-based educational leadership and management. His blog, Evidence Based Educational Leadership, explores how educators can use research more in their practice, and the pedagogical implications in doing so.
In 2016 he published an online handbook for teachers and school leaders on the best uses of evidence-based practice. Over the last two years he has also spoken at a range of conferences including ResearchED London, Sydney, Cambridge, New York, Glasgow and Goteborg.
Jones is currently an associate of the Expansive Education Network based at the University of Winchester, where he supports teachers in engaging in evidence-based practice. He was previously Deputy Principle at Highlands College in Jersey. He earned his PhD in educational management from the University of Bristol.
Jones's handbook, Evidence Based Practice, explores what evidence-based practice is and how it can help teachers. He looks particularly at the quality of evidence teachers use, and seeks to help educators understand not just the best ways to use evidence, but also how to ensure they are using the best evidence. He writes to help teachers identify what is good quality evidence, and how to use critical thinking to analyse it.
What does he research?

Jones suggests that school leadership and management decisions are not often based on the best evidence, but rather on personal experience. Though he does not dismiss this type of anecdotal evidence, he seeks to help educators understand the need to be critical of different types of evidence, as well as understand what type of evidence is appropriate to use in different situations. His blog also explores the ethical implications of conducting research and evidence gathering in schools.
Given the principles of evidence-based practice, even if we rely on the experience of a colleague, this limited-quality evidence can still lead to a better decision than not using it, as long as we are aware of its limitations when we act on it.
Though Jones's profile is not as big as some other education experts, he has a solid reputation in educational research and has been involved in a number of projects. In the past he worked on e-learning, and has worked with Manchester Metropolitan University and the East Sussex Learning and Skills Council. In 2000, Jones was awarded the National Information and Learning Technology Association (NILTA) National ICT Leadership Award for his work in using ICT to promote pupil learning at Highlands College.
Why you should consider reading more:
With the increasing use of evidence-based evaluation in education and of educators, Jones's critique of the types and uses of evidence can help teachers and school leaders better consider the implications of evidence evaluation, and how to best utilise – but also question – education based evidence.
Related Posts
Comments
No comments made yet. Be the first to submit a comment
By accepting you will be accessing a service provided by a third-party external to https://edcentral.uk/