3 minutes reading time
(571 words)
A beginner's guide to Professor Daniel Koretz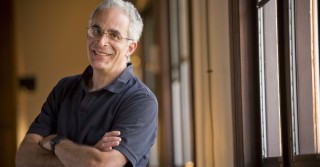 Expertise in educational assessment and testing policy. His research focuses on the effects of high-stakes testing, including score inflation, changes to classroom practice, the impact on pupils with special educational needs and international differences in pupil achievement. He is currently working on designing and evaluating educational systems that focus on testing.
Quick facts:
Born: 1949
Nationality: American
Professional bio: Professor Daniel Koretz
Where does he work?

Koretz is the Henry Lee Shattuck Professor of Education at the Harvard Graduate School of Education, and author of Measuring Up: What Educational Testing Really Tells Us. Before he gained his PhD in Developmental Psychology at Cornell University in 1978, Koretz taught young students with complex emotional needs.
What's it all about?

Koretz's work has focused on American education policy since the 1970s, and its reliance on test-based accountability (TBA) as a primary tool for improving pupil achievement and reducing achievement gaps. Koretz has argued that, despite evidence that teachers' responses to TBA affect the validity of the tests - and in some cases have produced severe inflation of scores - there are no better alternatives.
He suggests that test scores alone are not sufficient to evaluate a teacher, a school, or an education programme – some of the benefits teachers are responsible for may not be obvious in students for years. What's more, he says, it is not possible to trust large gains in scores on tests that are used to hold students to account, and nor is alignment always helpful because so much of what is learned is omitted from tests.

Koretz's current research focuses on large-scale educational assessments, particularly those used for monitoring and accountability. He has adopted many different approaches to analysing trends in performance, exploring methods that identify the potential for bias. Through this, he has explored variations in the validity of assessments designed to monitor educational accountability.
"I have argued for years that one of the most glaring faults of our current educational accountability systems is that we do not sufficiently evaluate their effects, instead trusting – despite evidence to the contrary – that any increase in scores is enough to let us declare success. We should be doing more evaluation not only because it is needed for the improvement of policy, but also because we have an ethical obligation to the children upon whom we are experimenting. Nowhere is this failure more important than in the case of disadvantaged students, who most need the help of education reform."
Koretz is well respected in educational research fields. His work is frequently cited by experts in assessment such as Professor Dylan Wiliam and Daisy Christodoulou. He is a founder and chair of the International Project for the Study of Educational Accountability System, an international network of scholars investigating approaches to educational accountability. He is also is a member of the National Academy of Education.
Why you should read more:

Koretz's work is essential reading for educators interested in the limitations of assessment systems, and for policymakers charged with developing and evaluating new approaches for working with data from educational assessments.
---
Inspired by evidence-based practice? Visit EdResearch, our searchable library of education research (EdCentral members). If you're a teaching professional or SLT and not already an EdCentral member, you can join for free. Take a look at this page for more info. For all our latest updates follow @EdCentral on Twitter and join us on Facebook
Related Posts
Comments
No comments made yet. Be the first to submit a comment
By accepting you will be accessing a service provided by a third-party external to https://edcentral.uk/