4 minutes reading time
(869 words)
A beginner's guide to: Katharine Birbalsingh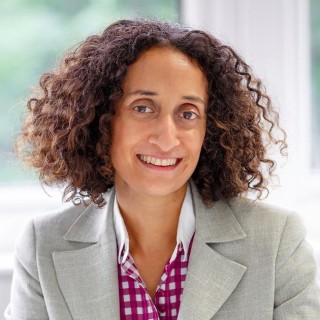 Appointed Chair of the Social Mobility Commission in October 2021, Katharine Birbalsingh first shot to fame following a speech she delivered at the 2010 Conservative Party Conference. Her heated rhetoric drew a lot of abuse on social media, and the nature of her sentiment apparently led the governors of the school she was teaching at to 'discuss her position'. Birbalsingh ultimately resigned her post, and turned her blog into a book of the same name. The book of To Miss With Love was chosen as Book of the Week and serialised on BBC Radio 4.
A strong believer in traditional teaching methods, discipline, and their role in promoting social mobility, Birbalsingh established the Michaela Community free school in the deprived area of Wembley Park, Brent. In 2017 she was included in Sir Anthony Seldon's list of the 20 most influential figures in British Education; two years later she was awarded the Contrarian Prize (an annual prize promoting non-conformist thinking in British public debate) and in 2020 she was made Commander of the Order of the British Empire (CBE) for services to education in the Queen's Birthday Honours list.
Birbalsingh is the founder and headteacher of the Michaela Community School in Brent, London and Chair of the Social Mobility Commission. After graduating from Oxford University (where she read French and Philosophy at New College) and gaining her PGCE at the Institute of Education, Birbalsingh began teaching in the state sector, acting as a teacher, head of department, assistant head and vice-principal. In 2007 she began blogging about her experiences of teaching in her anonymous blog, To Miss With Love. She founded Michaela, a free school, in 2014.
According to Birbalsingh the Michaela Community School combines all of the best elements of top performing schools – a rigorous academic curriculum, high expectations and strong discipline – and puts them into practice in an inner city comprehensive. A fan of E. D. Hirsch's The Schools We Need and Why We Don't Have Them. Birbalsingh's school follows a mantra of teaching knowledge, 'not learning skills' and its website claims that 'staff at Michaela tend to reject all of the accepted wisdoms of the 21st century'.
Responding to the criticism of her school's methods following a 'lunch isolation' incident – where a pupil was told he would be given just a sandwich and a piece of fruit to eat alone because his parents hadn't paid the termly dinner fee – Birbalsingh argued that her school has made real improvements to the lives of its pupils, claiming that some of Michaela's pupils 'make up to five years reading progress in one year', and that 75 per cent of its Key Stage 3 pupils achieved C grades on a recent GCSE maths exam paper, despite not having known their times tables when they started at the school two years before.
'We set up Michaela School in 2014 because we were sick of the lazy and bigoted assumption that children from poor families would only ever get a poor education and that they would never achieve as well as young people born into richer families.'
Birbalsingh has become a Marmite character within education: she was praised as a 'superhead' by former education secretary Michael Gove, who she likewise called an 'inspiration'. But others have criticised her uncompromising approach to education. Melissa Benn in particular was critical of both Birbalsingh and Gove for portraying state education in an unfavourable light in order to drive their own political agenda.

Why you should consider reading more:

Though controversial, Birbalsingh claims her approach to teaching does have positive results for disadvantaged pupils and parents. Together with other teachers at Michaela, she wrote a book about the teaching methods and ethos employed at the school:
The Battle Hymn of the Tiger Teachers
. Teachers and school leaders are likely to find much to discuss in Birbalsingh's advice, though whether they choose to follow it is a different matter.
Birbalsingh's most recent book 'Michaela: The Power of Culture' was published in June 2020 as a follow-up to Battle Hymn of the Tiger Teachers and delves into what it is that makes the Michaela School 'trailblazing'.

---
Inspired by evidence-based practice? Visit EdResearch, our searchable library of education research. If you're a teaching professional or school leader you can join EdCentral for free. Take a look at this page for more info. For all our latest updates follow @EdCentral on Twitter.

Related Posts
Comments
No comments made yet. Be the first to submit a comment
By accepting you will be accessing a service provided by a third-party external to https://edcentral.uk/