6 minutes reading time
(1168 words)
A beginner's guide to Professor Rose Luckin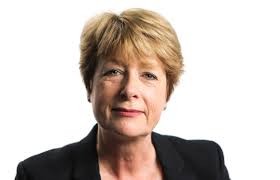 Often described as the Dr Who of artificial intelligence (AI) in education, learning scientist Professor Rose Luckin believes that the teaching provided by schools and universities will fundamentally change over the next two decades as a result of AI, virtual reality (VR) and augmented reality (AR).
Born:
Nationality:
Blog:
IOE London Blog:
Twitter:
LinkedIn:
Professional Bio:
1958
British
@knowldgillusion
UCL IRIS
Luckin is Professor of Learner Centred Design at the UCL Knowledge Lab, UCL Institute of Education and Director of EDUCATE. Entering university at the age of 38, she gained a 1st class BA in Computing and Artificial Intelligence (AI) at the University of Sussex, where she also completed her PhD in Cognitive Science and went on to become pro vice chancellor. She also advises education technology companies seeking to use some element of AI to improve their technology, sharing research with them about what works and what doesn't.
Luckin has taught computer sciences in schools and colleges and served on the governing bodies of both primary and secondary schools. She is currently a trustee of St Paul's School in West London.
What is she best known for?
Computer science and AI applied to education. Luckin believes AI can help us:
​

improve routine cognitive processes and make them more efficient

locate gaps in our knowledge
develop higher order thinking and learning skills
identify inaccuracies in how we perceive our strengths and weaknesses – and in what we know and don't know.


Luckin is in the process of developing a robot called 'Colin' to take on a teaching assistant role and demonstrate how robots could help teachers in the classroom. Focusing on pupil wellbeing, Colin will collect data which will help identify the areas where individual learners need the most support.
In general, Luckin is concerned with how best to use intelligent technology to help build better education systems and how people can use education technology more effectively. She believes AI embraces a range of disciplines – psychology, linguistics, philosophy, cognitive science, neuroscience, and computer science – and is keen for the teaching profession to understand what AI can and can't achieve so teachers become more informed about how it can provide practical support to both teaching and learning.
The message from Luckin to educators is to think about the type of learning experience they want to use the technology in. Context is all-important. What sort of learning do they want to take place? What resources are they going to use? And how can technology fit into that and support the learning? She says 'Machine Learning' will beat us hands down in accessing knowledge. But it isn't about pitting man against machine, which is where much misunderstanding about AI comes from. Nor is it about human teachers giving way or being replaced by AI. It's working out what machines and AI can do best to support teaching and learning; identifying where the real challenges in education are and how AI can help solve them.
Luckin's research involves the design and evaluation of educational technology using theories from the learning sciences and techniques from artificial intelligence. She collaborates with international researchers and academics on AI, VR and AR and has published over 50 peer-reviewed articles.
In her own words, Luckin describes her research as follows:
"My research explores how to scaffold learning across multiple technologies, locations, subjects and times. I apply participatory methods to the development and evaluation of technology for learning. This work is interdisciplinary and encompasses education, psychology, artificial intelligence and human computer interaction. I investigate the relationship between people, their context, the concepts they are learning, and the resources at their disposal. This research involves working closely with academic and non-academic partners and users and beneficiaries.
"I use Artificial Intelligence techniques to develop and/or evaluate educational technology. In particular, I build learner models that track learners' metacognitive progress as well as their outcome performance. The design of the pedagogical components of the systems are based upon Vygotsky's Zone of Proximal Development. Evaluations have demonstrated the effectiveness of this work.
"I evaluate the potential and promise of new technologies and work with educators to help them use these tools effectively.

"I conduct research that addresses the aims of the Learning Sciences, such as that into the help-seeking behaviour of learners, and that uses the Learning Sciences to inform the design of technology to support learning."

"I think the future will be one where we work alongside artificially intelligent partners."
"What we are very interested in is the right blend of human and artificial intelligence in the classroom – and how to identify that sweet spot".

"Everyone can benefit from evidence-informed EdTech. Learners can become better at learning, teachers can become better at teaching, researchers can conduct more impactful research, and developers can produce more effective technologies".
Speaking about Luckin's latest book, Enhancing Learning and Teaching with Technology:
'This is an important and timely book for schools struggling to know what technology can help hard-pressed teachers in the classroom. It is hard for schools to know who to believe as new products are pushed at them all the time. This academic analysis answers their need.' — Lord Jim Knight, Chief Education and External Officer, TES, and former Schools Minister
'A wide-ranging and fascinating exploration of what we know about effective learning and how the many uses and applications of technology can enhance impact. This is a must-read for teachers keen both to understand "what works", and to gain awareness of areas that show promise in pedagogy that seeks to embrace technology.' — Professor Dame Alison Peacock, DBE, DLitt, Chief Executive, Chartered College of Teaching
'This is a box of delights: it draws together an exceptional range of contributions to focus what we currently know – and highlight what we don't – about enhancing learning with technology. For all the variety, the focus is strongly, as it should be, on learning. It's accessible and well-structured – a great reference source for busy practitioners.' — Professor Chris Husbands, Vice-Chancellor, Sheffield Hallam University, and TEF Chair
Why you should consider reading more:

Luckin appears in the Sunday Times 2017 Seldon List of the 20 most influential people in education. She suggests the 19thcentury education we currently provide in the UK isn't fit for purpose in the 21st century and speaks about AI instigating a learning revolution and heralding the provision of personalised, high quality learning for all.
Because AI can provide detailed and nuanced information about each individual's progress – intellectually, emotionally, socially, metacognitively, and in developing self-efficacy – Luckin believes it can take much of the heavy lifting out of teaching.
---
Inspired by evidence-based practice? Find out more about
EdResearch
- our searchable library of education research - and follow @EdCentral on Twitter for all our latest updates. If you're a teaching professional or school leader and not already an EdCentral member, you can
join for free.
Related Posts
Comments
1

great content...this content provides us with valuable data..
By accepting you will be accessing a service provided by a third-party external to https://edcentral.uk/