4 minutes reading time
(767 words)
A beginner's guide to Daisy Christodoulou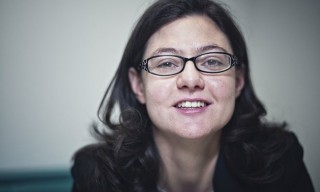 University Challenge fans may remember Daisy Christodoulou: she was described as "Britain's brightest student" after her outstanding performance on the 2006-07 series, where she captained the University of Warwick's team (you can catch the final on YouTube here).
Fast forward a decade and the student is now a teacher. Christodoulou initially became well known for her first book Seven Myths about Education. She has since written a second.
Here's our guide to her work ...
Quick facts
Nationality: English
Website: The Wing to Heaven and No More Marking
Twitter: @daisychristo and @nmmarking
Christodoulou is currently director of education at No More Marking (NMM), an online resource founded by Dr Chris Wheadon, which helps teachers undertake comparative-judgment assessment of school-work. Prior to July 2017 when she took up her post at NMM, she was head of assessment at Ark Schools, the network of academies across the UK run by the international children's charity Ark.
Growing up in London, Christodoulou opted to study English at the University of Warwick, before training as a teacher through Teach First. It was her time in the classroom that developed her interest in evidence-based practice and, after taking some time out to study for an MA in literature, she noticed that much of what was assumed in schools was not backed up by research.
In 2013, she published Seven Myths About Education, a blistering critique of some of the most common preconceptions in UK education. Her second book, Making Good Progress? The future of Assessment for Learning hit the shelves in February 2017.
Christodoulou took no prisoners with her first book, challenging seven misconceptions that are rife in teacher training and classroom practice. She identifies these as:
Fa

cts prevent understanding.



Teacher-led instruction is passive.

The 21st century fundamentally changes everything.

You can always just look facts up.

Schools should teach transferable skills.

Projects and activities are the best way to learn.

Teachi

ng knowledge is indoctrination.



The main thrust of Christodoulou's argument is that 21st-century learning dismisses the important role of knowledge in favour of teaching skills. She believes you need to have a robust knowledge base committed to long-term memory before you can learn how to use skills effectively.

Christodoulou's second book builds on the first - seeking to create an assessment system that supports her ideas. In this blog post she provides a succinct summary of the research and ideas behind it.
E. D. Hirsch Jr called Seven Myths About Education a "must-read for anyone in a position to influence our low-performing public school system". The book also gained praise from Michael Gove while he was education secretary, and BBC Radio 4 profiled Christodoulou in its series The Educators. Writing in the Guardian, Peter Wilby also praised Daisy for her focus on pedagogy and her evidence-based approach.
Why you should consider reading more:

Christodoulou has received praise from all corners for her concise, accessible writing style.
Her latest book focuses on formative assessment, combining rigorous academic research and discussion alongside practical tips for teachers of all levels. Helpful indeed in the brave new world of life without levels.
Additional info:

Some of Christodoulou's speeches and debates:
---
Inspired by evidence-based practice? Find out more about EdResearch, our searchable library of education research (EdCentral members) and follow @EdCentral on Twitter for all our latest updates. If you're a teaching professional or school leader and not already an EdCentral member, you can join for free. Visit this page for more info.
Related Posts
Comments
No comments made yet. Be the first to submit a comment
By accepting you will be accessing a service provided by a third-party external to https://edcentral.uk/