4 minutes reading time
(710 words)
Many teachers would have a flair for teaching computer science if they tried it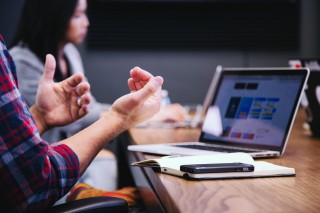 I originally qualified as a secondary French and German teacher 10 years ago and I had next to no knowledge of computer science.
But, as we know all too well, modern foreign languages are sadly in decline, especially German. I decided to take matters into my own hands and over the first lockdown, I taught myself some of the basics of computer science and attended a four-day summer school in York, delivered by the National Centre for Computing Education, to increase my GCSE computer science subject knowledge.
It was one of the best things I've done in teaching and I want more teachers like me to know that they would have a flair - and passion - for teaching computer science if they tried it.
I now teach computer science and the BTEC in Digital Information Technology to 40 Year 7 to Year 11 pupils at College Central, a Pupil Referral Unit in Eastbourne.
I've always enjoyed the creative side of lesson planning. I used to love thinking up ways to keep my more challenging pupils engaged in French and German lessons. I'd use Powerpoint creatively and produce videos and animations that would help them learn and stay motivated.
Before the first lockdown, I hadn't had the time or the confidence to learn coding, but Iwas Head of Digital Literacy at my school and I felt it was something I really should do.
I went on the four-day Computer Science Accelerator programme and gained subject knowledge certification, but even more importantly, I gained a lot of confidence and interest in computer science and plenty of teaching ideas and new contacts in the field. I also had access to funding for the subject at my school. Learning coding and programming was just like learning a new language all over again.
Modern foreign language teaching uses the skills of reading, writing, listening and speaking and computer science teaching is surprisingly similar. It has distinct areas, such as image editing, sound sampling, writing code and networking. These areas can be studied in-depth and independently, but they are also interconnected in just the way that language skills are.
I think modern foreign language teachers - and many other teachers - would enjoy teaching computer science if they tried it. There are specific vocabularies and grammars to coding languages and they have their own characters. I have developed a preference for Javascript over Python, for example, because of its more imaginative use of brackets - squiggly ones - {} - look much cooler than normal ones!
Just like European languages, some words and phrases are understandable to everyone, while some are unique to one language. You can become a specialist in just one of the programming languages or dabble in several, just as some people are fluent in French and others prefer to know a bit of French, Spanish and German.
Above all, computer science is a creative subject and that's something I'd like more teachers to know because I think they'd be more likely to try it and enjoy it, just as I have. Over the last few weeks, I've been enjoying creating websites in which you can use several different coding languages, such as HTML, CSS and JavaScript, each doing different things, to create one finished product.
Now I've started working with my local STEM Ambassador, who is helping me with advice and funding to begin offering GCSE computer science at my school. I feel optimistic about the opportunities for me in the future. I think it's surprising how many schools are willing to employ non-specialists to teach IT and computer science. A lot of computer scientists in business and in school IT support departments are self-taught though, so it does make sense.
Learning the basics of Computer Science has given my career a real boost and has taken me in directions I never would have expected. Any modern foreign language teacher can quickly gain the skills to enhance their teaching and motivate tech-savvy children. They can even make the leap into an entirely new teaching career, just as I have. Give it a go, I think you'll like it!
Paul Hipperson teaches at a Pupil Referral Unit in Eastbourne. For more information about retraining as a computer science teacher, go to https://teachcomputing.org/
Comments
No comments made yet. Be the first to submit a comment
By accepting you will be accessing a service provided by a third-party external to https://edcentral.uk/