3 minutes reading time
(667 words)
How physical activity is key to meeting all our children's needs in these uncertain times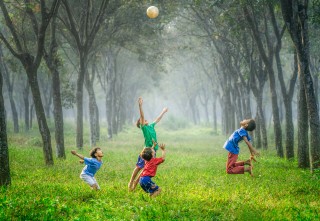 Headteachers across the country are now under considerable pressure to ensure our pupils catch up on their academic learning, while of course making sure their emotional and social needs are also met.

Physical activity and PE can sometimes be forgotten amid this pressure.

It shouldn't be. In fact, our school is proof that when everything in a school is built around physical activity and PE, pupils' academic progress follows naturally and, even more importantly, children are happier, more confident and more willing to learn.

Turn lessons into 'outdoor experiences'

It's essential that physical activity and PE don't just mean taking an indoors lesson outside. This isn't half an hour in which children do jumping jacks or stand on the corner of a windy field being told what to do, or worse, watching others being told what to do. This is about creating outdoor experiences and using the outdoors to learn in a physical way.

Our Year 1 pupils, for example, have just learnt about The Tiger Who Came to Tea by going outdoors to meet a teacher in the playground who was dressed up as the tiger and have tea! This 'outdoors experience' led to excellent class discussion about the book and the freedom the children felt from being outdoors helped them to focus all the more on the new vocabulary and ideas. Other Year 1s have been learning about 2-D shapes. The lesson started indoors, but quickly moved outdoors to find natural objects that were 2-D. Year 2s go hunting for dragons in our Explorer Zone which also enables a high level of physical activity in their learning. Our Reception children have learnt about the life cycle of a butterfly through physical activities that involve putting on pretend butterfly wings. Outdoor learning can make a huge difference to children's academic progress and love for learning, but it does require proper planning and investment. Work with staff to see what resources might be best for them and allocate someone to lead to ensure the resources are kept in good condition.

Seek external support from organisations such as Move.Learn.Grow

Part of building a school around physical activity means knowing when to seek external support. We would encourage schools to use the School Sports Premium to access high-quality external expertise. We are using Move.Learn.Grow, an excellent partnership of leading sports education experts from the Harlequins Foundation, Kingston University and Sport Impact, a not-for-profit. They offer primary schools like mine support to help pupils learn core subjects and develop essential life skills through sport and PE.

We all know that teacher training may not always place as much emphasis as it should on PE and physical activity. Outdoor or PE lessons can be daunting to some teachers, particularly those who are less confident about sport. There are, of course, health and safety considerations to keep in mind too. We'd advise heads to invest in CPD for staff - again, organisations like Move.Learn.Grow are essential as they can help train teachers to develop excellent, structured lessons and are full of ideas of how to make PE lessons fun and worthwhile for all children.

At our school, our focus on the outdoors has more than helped us meet the additional challenges that Covid-19 has brought - it has made our school a happy environment where children's needs are met. We are particularly proud to say that in these challenging times. Our children are continuing to make great academic progress and are calmer and more receptive learners than ever. They cope better with emotional difficulties and, because they feel better about themselves having been outdoors, their behaviour has also improved. As teachers, it's made our jobs much easier and more rewarding.

Let's not be too quick to make the distinction between academic learning and physical activity - the two naturally go together.

Kathryn Harper-Quinn is the headteacher of Hounslow Heath Infant and Nursery School in London. The school has been continuously rated Outstanding by Ofsted since 2015.

Related Posts
Comments
No comments made yet. Be the first to submit a comment
By accepting you will be accessing a service provided by a third-party external to https://edcentral.uk/