Five scientifically-proven reasons why school leaders need strong teams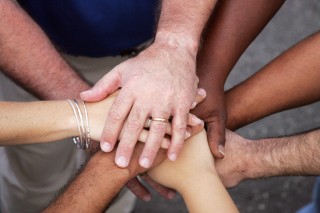 By Bradley Busch and Alex Lucas

"If you want to go fast, go alone. If you want to go far, go together." This old African proverb – often associated with Nobel Peace Prize winner Al Gore after he tweeted it in reference to climate change – will ring true for any school leader trying to steer their school towards success. The senior leadership team is your life raft – providing eyes, ears, ideas and support for you and your staff.
Here, we review the psychological research on the effects that others can have on performance, highlighting five brilliant benefits of a strong team:

1. Enhancing effort

Research shows that effort is contagious. A recent study found that if the person next to you is working hard, your work ethic increases. And you benefit from this effect regardless of whether they are doing an easier or more difficult task, something similar or totally unrelated.
As well as improving work ethic, working together also helps people to stay engaged and learn faster. In another study, young adults who performed a task together "engaged in more exploratory behaviour" and "learnt faster from positive and negative feedback" compared with those who worked on their own.
It's not just your work ethic that gets a kickstart from having the right team around you – your motivation does too. Certain factors – such as having a sense of purpose, choice and mastery – are known to give your motivation a boost. Now you can add personal belonging or relatedness to a social network to that list. For university students in a randomised control trial, being part of a peer-network was more effective than promotional messages when it came to increasing participation in physical activity.


2. Social support and advice

Phil Jackson, one of the greatest basketball coaches of all time, once said: "The strength of the team is the individual. The strength of the individual is the team."
We all know that if we help each person maximise their talents, the team gets stronger. But it isn't just about the added skills and strength that people bring – the support, advice and guidance of the team is just as important.
Access to a supportive network of individuals acts as a stress buffer and improves coping skills. This social support can come in many forms – from someone giving you advice or helping you out with a task, to establishing a mentor relationship. All three are important, so finding people who can help you to satisfy each of those needs is key to building a good team.
Having a trusted network of individuals to turn to is extremely helpful for boosting your mood and wellbeing, and ability to cope in times of stress. This is why the NHS urges people to connect with others to improve their wellbeing. This is something we have written about in more detail here.


3. Resilience


4. Improving self-assurance

A fascinating study found that the way teachers speak to their students affects how students speak to and view themselves. The authors of this research said: "Positive statements made by teachers were found to be directly related to positive self-talk and to maths and learning self-concepts."
In fact, how other people talk to us has an impact on us, even at a very young age. Researchers have found that the type of praise we are given when aged between one and three years old can predict our mindset up to five years later. We talk more about the importance of praise and the different types here.
This could also have an impact for school leaders – surrounding yourself with positive, supportive colleagues will be essential to ensuring you have the confidence and self-esteem to work effectively.

5. Improving performance

In an early study in of sport psychology, researchers found that simply having to perform a task with others made people work harder. Fast forward a hundred years and we see the same benefits in the workplace. In a study of more than 300 people, researchers found that having meaningful relationships with the people you work with can improve your performance. They found that colleagues who had good personal relationships had more trust, support and pride in their work.
That is not to say there are no drawbacks – the authors note that it can be draining having to offer social support to others while doing your work – but, on the whole, the benefits to performance outweighed the costs.
Inspired by evidence-based practice? Visit EdResearch, our searchable library of education research (EdCentral members). If you're a teaching professional or SLT and not already an EdCentral member, you can join for free. Take a look at this page for more info. For all our latest updates follow @EdCentral on Twitter and on Facebook.

Comments
No comments made yet. Be the first to submit a comment
By accepting you will be accessing a service provided by a third-party external to https://edcentral.uk/